Garrett SuperScanner Reviews, Price and Specifications
Hand Held Metal Detector
Retail Price: $179.95
Number of Reviews: 1
Avg. Rating (1.0 Stars)

Email to a friend.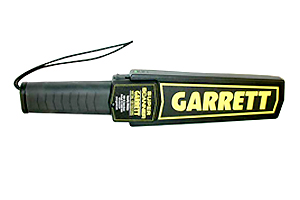 Specifications:
One switch operation
Ultimate sensitivity
Does not require adjustments
Rugged, high-impact ABS case with reinforced coil compartment
Detects medium sized pistol from 9"; large knife from 6"; razor blade and box cutter from 3"; foil-wrapped drugs and tiny jewelry from 1"
Large 10" scan surface for quick, thorough scanning
No tools required to change 9V battery
Sharp audible alarm and bright red LED light indicates the detection of metal
Momentary push button temporarily eliminates detection of nearby ambient metal such as rebars, metal walls, etc
Green LED light indicates ON; Amber LED indicates low battery; Red LED indicates ALARM
Operating Temperatures: -35°F (-37°C) to 158°F (70°C)
Humidity: to 95% non-condensing
Operating Frequency: 95 kHz
Audio Frequency: 2kHz
Tuning: Automatic
Indicators:
Silent / Vibrate
Audible Speaker
LED Alert Lights
Green: Power ON
Amber: Battery LOW
Red: ALARM condition
Interference Elimination Momentary Switch
Battery: Single 9 volt battery provides up to 60 hours of normal operation. Optional NiMH rechargeable battery provides up to 20 hours on each 12-hour recharge
Dimensions:
Width: 3.25" (8.3 cm)
Thickness: 1.625" (4.13 cm)
Length: 16.5" (42 cm)
Weight: 17.6 oz. (500 g)
Warranty: Limited, 24 months parts and labor
Proven to accurately detect concealed metallic items, the SuperScanner is the most recognized hand-held metal detector in the world and has led the industry for over 20 years.
Shallow for Deep Coins
Hussein in jordan -

Don't expect to find deep coins with this unit. It detects coins at maximum 5cm depth.
Jul 22, 2010