Garrett SuperWand Reviews, Price and Specifications
Hand Held Metal Detector
Retail Price: $199.95
Number of Reviews: 0
Be the first to review this item
Email to a friend.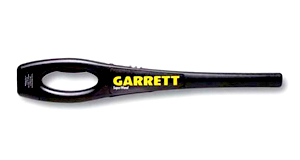 Specifications:
Operating Temperatures: -35°F (-37°C) to 158°F (70°C)
Humidity: to 95% non-condensing
Operating Frequency: 95 kHz
Audio Frequency: 2kHz
Tuning: Automatic
Indicators:
Silent / Vibrate
Audible Speaker
LED Alert Lights
Green: Power ON
Amber: Battery LOW
Red: ALARM condition
Controls:
3 way switch ON (Speaker / LED Light)
ON (Vibrating / LED Light), OFF
Battery: Single 9 volt battery provides up to 60 hours of normal operation. Optional NiMH rechargeable battery provides up to 20 hours on each 12-hour recharge
Dimensions:
Width: 3.25" (8.3 cm)
Thickness: 1.625" (4.13 cm)
Length: 16.5" (42 cm)
Weight: 17.6 oz. (500 g)
Warranty: Limited, 24 months parts and labor
The SuperWand's exclusive 360° detection field provides uniform sensitivity and tip pinpointing to detect weapons and other metal objects with extreme accuracy. From U.S. airports to sporting events, the SuperWand is the hand-held of choice for today's security screener.