Garrett Tactical Hand-Held Reviews, Price and Specifications
Hand Held Metal Detector
Retail Price: $179.95
Number of Reviews: 0
Be the first to review this item
Email to a friend.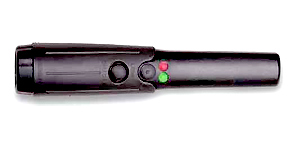 Specifications:
Operating Temperatures: -35°F (-37°C) to 158°F (70°C)
Water and Dust Protection: Meets IEC 529 IP66 standards
Operating Frequency: 95 kHz
Tuning: Automatic
Indicators: Silent / Vibration
LED Alert Lights
Green: Power ON
Amber: Battery LOW
Red: ALARM condition
Controls:
Power switch (ON / OFF)
LED flashlight (Momentary)
Battery: Single 9 volt battery provides up to 80 hours of normal operation. Optional NiMH rechargeable battery provides up to 25 hours on each 12-hour recharge
Dimensions: Length - 8.43" (22 cm), Thickness - 1.625" (3.8 cm) tapered to 1.125 (2.9 cm)
Scan Area: 3.5" (8.0 cm)
Weight: 6.4 oz. (200 g)
Warranty: Limited, 24 months parts and labor
The THD quickly and effectively targets all ferrous, non-ferrous and stainless steel weapons, contraband and other metallic objects. Its unique 360°, 3-inch detection area allows unrestricted scanning angles for fast and accurate hands-free body searches.