American Hawks Explorer Reviews, Price and Specifications
Junior Metal Detector
Retail Price: $59.99
Number of Reviews: 1
Avg. Rating (5.0 Stars)

Email to a friend.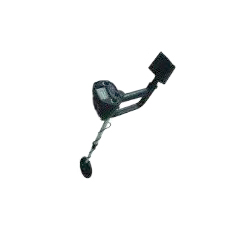 Specifications:
Weight: 1.3 pounds
Water proof coil
All Metals or Motion Discrimination
3 adjusting knobs for sensitivity, discrimination threshold and volume control
Built-in speaker or optional headphones
Adjustable Arm Support
Automatic Ground Balance
Good Starter - Teaches Basic Metal Detecting
ST in Mother Lode in California -

I bought this detector for my passtime, and, though it is a junior detector, once I set out around the house it turned out to be a good investment. The previous occupants, seemed to have thrown out hundreds of 1 cents which were buried in the gravel out back of the house. I learned later that the pond/waterfall in the fenced backyard was used as a wishing well, and they had pumped the water and coins out to the back area. Some quarters, dimes and nickels were found. From the experience, I found the user's manual to be accurate and helpful. Everything works just like the manual states. Pull-tabs, though, can sound like 1 cent, and 1 cent can sometimes sound close to a quarter. Iron can be eliminated mostly, though, rusty nails can sound like 1 cent.
Sep 26, 2009
15 people found ST's review helpful.