American Hawks Basic HP-1002 Reviews, Price and Specifications
Junior Metal Detector
Retail Price: $29.99
Number of Reviews: 0
Be the first to review this item
Email to a friend.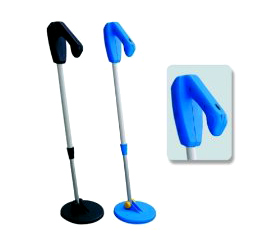 Specifications:
Audio Alert and Red LED Alert
Search Coil need to be unfolded for testing or usage. Otherwise (in folded position), it will BEEP CONSTANTLY since Search Coil is testing the metal rod
Requires adjustment of the metal detector into the most sensitive status
Buzzer sounds and LED lights when metal is detected
Detecting Depth: up to 8 inch (for a US quarter)
6.5 inch waterproof search coil (This is the only model on the market under $50 that comes with a waterproof search coil.)
Shaft extends from 23" to 34 1/2"
Adjustable stem for comfortable use
Weight: 1.5 lbs
Requires one 9V battery
Shipping Weight: 318 pounds
The HP-1002 model has been very popular as a promotional gift. If you would like to try treasure hunting without spending a lot of money, this is a perfect model. This is also a "unique" toy for kids who want to follow their parents in treasure hunting.