Whites Classic 5-ID Pro Reviews, Price and Specifications
All-Purpose Land Metal Detector
Retail Price: $569.95
Number of Reviews: 1
Avg. Rating (5.0 Stars)

Email to a friend.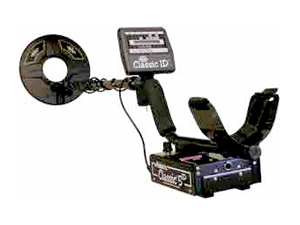 Specifications:
9.5 Inch Pro Deep Searching Coil
Deeper, More Accurate Target ID with Xtra-Large meter shows identity of detected targets
Completely automatic
White's new patented I.D. system you can count on - even on those DEEP coins
Large Eight-block LCD with Easy-to-Read Graphics
Two Controls: Discriminate and Sensitivity with Preset settings for easy operation
Ring Range detects all jewelry and coins
For trashy areas, set at the higher Coin Range to ignore junk and pick up most coins
Silent Search Discrimination - hear just the treasure
Very slow sweep and quick recovery - great for trashy areas
Pro 9.5" Wide scan coil for best recovery of the deepest coins
Automatic Set Ground Balancing
Optional adjustable ground balance: can be adjusted to accommodate extreme ground minerals
Trigger Pinpointing switches to "All-Metal" for easy pinpointing
All-metal or discriminate modes - Both with VDI
Convenient handle mounted pinpoint/All-metal Toggle
Three-piece rod set breaks down into a compact package for travel
Slide-in 8 "AA" battery system delivers up to 50 hours of battery life
Weight - only 3.8 lbs
Search coil operating frequency 8.0 KHz
2-Year Warranty
Simply Outstanding!
Jerry Delancey in Montgomery, AL USA -

This detector is easy to use for someone just starting to go detecting and for the more experienced. Just listen for the "soild/clear" signals and dig up the valuables!
Picks up a little deeper than I like to dig; however, thats just me. Kudos to Whites!
Apr 14, 2011
9 people found Jerry Delancey's review helpful.