Cobra Beach Magnet Reviews, Price and Specifications
Beach/Land/Surf and Underwater Metal Detector
Retail Price: $995.95
Number of Reviews: 7
Avg. Rating (3.9 Stars)

Email to a friend.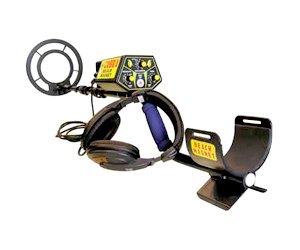 Specifications:
3 easy-to-tune controls with factory recommended starting positions
On/off Volume Control. Set for comfortable audio response when detector locates a good target
Detection Depth Control. Set at minimum to max (10) to push signal into the ground
Adjustable Trash Eliminator. Use to reject and tune-out unwanted junk and trash
12.5 kHz operation for exceptional depth
Fully automatic tuning
Fully automatic ground balance
Full range VLF discrimination
Adjustable detection depth
Adjustable volume control
Target indication light
Low battery warning tone
Light weight waterproof headphone (adjustable)
12 volt AA battery system
130 feet maximum dive depth
10 open Cobra Max coil
High strength powder coated aluminum rods
Fully adjustable rod with cam-lock
Padded arm rest
weighs 4.5 lbs
5 Year Limited Warranty
Cobra Beach Magnet - 'Fisher' from China
Ray in PA,FL. -

I picked one up on ebay for $70.00 Once I received the unit I installed batteries and did some air testing. Wouldn't even hit on a 14ct gold ladies ring. Sooo. I popped open the battery box, removed the hidden screws, and slid off the front face plate. Yep, as expected - A FISHER 1280X circuit board. I tweaked the 3 pots and gave the unit a high tone instead of the low tone. Now my unit hits 6 inches on the gold ring and runs a bit on the hot side and ticks my friend off who runs his 1280x - same unit only he paid way more. Oh, and, by the way, I have the 10-inch coil, and No, they don't run on 6 or 12.5 khz like the false advertisements says. It's a 2.4khz unit.
Same fisher 1280x only made in China cheaper. Just like Detector Pro Head Hunter Pirate Pro wader There based on the 1280x aquanaut also. They can handle the higher mineralization very well but as mentioned you will need to tweak the unit to make it worth the money. Contact me at finnfoto@ Y.c - I can help. Ray Sam Ww.
Jul 03, 2014
11 people found Ray's review helpful.
No Gold
Tom Vinson in Ft Pierce Florida -

I have had my unit for about three years. When I first got the thing, I used it every day since I only live a few minutes from the beach.
I found it quite odd that I was finding NO Jewelry on the beaches until I did a test run on my own 14" gold chain with pendant. To my amazement, the unit would barely pick up the chain right on top of the ground (no matter the setting). And when the gold chain was buried only a few inches, I would get no signal at all.
If you like nails, pull tabs and a few coins, then buy it. If you are looking for any type of gold, DON'T WASTE YOUR MONEY or TIME. This is a trash finding machine ONLY! At any price.
May 21, 2011
42 people found Tom Vinson's review helpful.
The Cobra Beach Magnet Works for Me!
Gregory Bryant in Sarasota, Florida -

I have had my Cobra Beach Magnet for 3 weeks now and I like it. A little heavy at first. Anyway, since I began hunting Siesta Key beach in Florida just 3 hours a day on the weekends, I have found a load of coins and one ladies high school ring (still trying to find her). I like the Cobra Beach Magnet!
Jun 28, 2010
7 people found Gregory Bryant's review helpful.
Field Test Review: A "When in doubt, dig" Machine
Brad Andrews in Somerset, Indiana USA -

(The unit tested had a 10" Double D coil. The unit was tested for 2 days on the land and in the water.)
The Cobra Beach Magnet operates on a single tone, "faint to loud" signal, which leaves you feeling uncertain quite a bit. I used an array of items - from gold rings to pull tabs to tiny nails, while testing the machine. One thing I noticed was that it is nearly impossible to eliminate larger iron objects, even nails, without running the risk of losing the ability to detect many good targets. This machine definitely needs better iron descrimination. The 10" double-d coil can also be a bit tricky to master when the objects will be often detected by the edges of both loops of a search coil passing over objects. Signal strength seemed sufficient as many items were located to 8" or more. The unit also needs to be equipped with a hip-mount system as it can get quite heavy after a while. For the money, it's an OK machine as a starter unit, but I did leave the field feeling fairly certain that the user is going to mis-read a lot of targets. This is certainly a "when in doubt, dig" machine.
Jun 02, 2010
10 people found Brad Andrews's review helpful.
Great detector for the price
Dennis in Florida -

I did the kellyco bogo deal - buy one get the second at a reduced price. We got two Cobra Beach Magnets for $556 with tax and an accessory package! A lot of machine for a great price! At the beach, it finds plenty of "trash", however, did very well with coins - NO JEWLERY! I'm new to this so I didn't expect to hit the jackpot! I used its volume at 10, discriminator near 0 so as not to miss anything, and depth at 10. I think I will try less depth to increase my discovery ability next time out. Being an amature, I like to ask others as many questions as I can to educate myself and learn some of the tricks some are willing to share. From many questions I believe the detector is only as good as the operator on the end of the handle. With that said, time and experience should increase the finds! So I am taking my time, moving slowly, learning and memorizing the tones associated with the various finds. Hopefully it will all prove valuable in the end! These machines are as capable as the Excalibur, Fisher, Garrett, etc. for a fraction of the cost! For now, I'll give it four stars but it may well deserve five - I'll update later!
Dec 21, 2009
9 people found Dennis's review helpful.
So Far So Very Good
Mike Farley in N.J. -

I bought a Cobra Beach Magnet from kellyco 2 years ago. I have put over 800+ hours on it and have found many valuable items both in Mexico and on many beaches in New Jersey. I know there are more quality units out there, but I hunt right beside the Minelabs and Whites, and find things they have missed and just as deep. Plus, I love going in the water with it, it works GREAT!!!
Aug 21, 2009
24 people found Mike Farley's review helpful.
Beware of Kellyco and the Cobra Beach Magnet!
Patrick O'Neal in Orlando, Fl -

My wife purchased the Cobra Beach Magnet for over $400.00 from Kellyco as a Christmas gift in 2005. I used it twice on the beach for a total of about four hours in 2006. It sat in my office/den in my house for the most of 2006/2007. I just recently got the urge to use it in an outing to the beach. After arriving to the beach, I unloaded the truck and got ready to go hunting. To my dismay, the Cobra Beach Magnet did not work. I had just purchased new batteries and thought that maybe the batteries were not good so I went to the store and purchased another ten dollars worth of batteries. The detector still was not working. We took it back to Kellyco and learned why it is important to check all the warranties with a magnifying glass before purchasing any products. Kellyco would not stand behind the products they sell. The warranty states that we have to pay $99 for the first hour of repair and $80 for each additional hour. However, Kellyco did replace the unit with what I suspect was a refurbished detector for $106. I also found out that this unit was made in China and does not have a good reputation with users. Buyers Beware!!!
Nov 29, 2008
114 people found Patrick O'Neal's review helpful.