Minelab GPX 4500 Reviews, Price and Specifications
Gold Prospecting Professional Metal Detector
Retail Price: $5595.00
Number of Reviews: 4
Avg. Rating (4.8 Stars)

Email to a friend.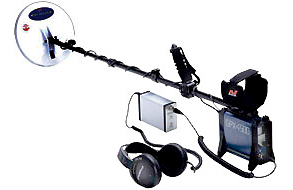 Specifications:
SETA (Smart Electronic Timing Alignment) provides less interference, quieter operation and a more stable threshold
Two more timing options added to the original four on the GPX-4000 - "Enhance" and "Sharp."
New custom modes
Ground Balance "Off" feature
Improved discrimination ability
Volume limit feature with a range of 1 to 20
New backlit control box with time-out feature to conserve battery power
Updated "Iron Reject" adjustments
New adjustable Stabilizer from 1-20 for smoother threshold
Improved battery harness for a more comfortable fit
Re-designed Lithium-Ion battery pack with an audio amplifier which will boost target signals and help you hear the deeper Gold nuggets more easily
Modified end-caps to improve adjustability and balance when using different size coils
Improved, stronger power cable
11" DD Coil
Rechargeable System for House and Auto
Minelab Headphones
Arm Rest
For Serious Prospectors!
Nugget Hunter in Australia -

If you are serious about finding gold nuggets, get a Minelab GPX 4500! I wasted my money on a different detector and realized my mistake only some time later while hunting with my buddy who used Minelab GPX 4500. After we spent the same amount of time hunting for nuggets, my buddy found around 1.5 Kilo's of gold while I recovered only some pitiful 0.17 grams with Eureka Gold.
Feb 14, 2010
58 people found Nugget Hunter's review helpful.
Make no mistake - This is all you need!
ZimGoldsearcher in Zimbabwe (Sometimes) -

This is a GOLD Detector. Given,it will keep you busy for a while to figure it out, as it is a bit complicated at first. Read (and understand) the user manual. Read it aigain, untill you understand it. Take it step by step and you will soon understand the machine. From just about zero experience, it took me three days to master it. Once you learn the "know how", you will find that this detector is worth more than its own weight in gold. It WILL pay for itself! As far as I'm concerned, the only drawback of this machine is its price. But, then again, it takes money to make money, and when you buy a Minelab GPX4500, you are not buying something - you are making an investment with great returns!!! I also bought a cheapy first, trust me, it was not worth it. My advise is to save a little longer and get a GPX4500. (I've heard a little bird saying something about a GPX5000 coming soon - Did you hear anything? :))
Jan 05, 2010
35 people found ZimGoldsearcher's review helpful.
GPX 4500 is not for beginners
Mal in AUS -

I upgraded from a 3500 to a 4500 and found the machine to be very complex. It's easy to use if you just leave it in the factory settings, but that's only the same as a 3500 anyway. Definitely not a machine for the beginner.
Sep 16, 2009
38 people found Mal's review helpful.
Magnificent Minelab
Maurie Hazell in Victoria, Australia -

Being a very keen prospector for the last twenty years, my first machine was a Minelab 1500. From then on, I have been upgrading very few models, and purchased my GPX 4500 about six months ago. Since then, I haven't looked back, it's a brilliant machine! Its ability to find gold in thrashed areas is fantastic. I have basically been using the factory settings - enhanced mode with a 14" Coiltek, with very good results. Not necessarily big gold but a lot of it! This detector handles hot ground with ease. The only drawback is the difficulty in using it with electrical interference sometimes. Initially the machine is a little complicated to understand, but once you have mastered it, the machine is simply very good. My question is has anyone experimented outside the factory settings and to what results?
Aug 24, 2009
90 people found Maurie Hazell's review helpful.