Fisher F70 Reviews, Price and Specifications
All-Purpose Land Metal Detector
Retail Price: $799.00
Number of Reviews: 1
Avg. Rating (5.0 Stars)

Email to a friend.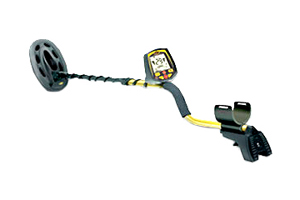 Specifications:
13 kHz frequency - good for coin shooting, relic hunting, and gold prospecting
Frequency shift for eliminating electrical interference and crosstalk
Advanced software-based motion discrimination with notch for searching trashy areas
All metals auto-tune mode for deep-searching in non-trashy areas
Visual target ID by category and 0-99 indication, both discrimination and auto-tune modes
Target ID confidence bar graph
High-resolution push-button ground balance with ground readout
Ground balance range goes all the way to salt
Continuous display of ground mineral concentration
Push-button static pinpoint with variable audio pitch and visual depth reading
Independent sensitivity and threshold settings provide fine control over response
Speed selection - normal for most situations, slow for deep coins in non-trashy areas
Batteries under the elbow provide counterweight - ergonomic design
Battery life on 4 alkaline AA batteries, 40 hours
Switch back and forth between two programs:saves both programs when turned off
Standard 10 inch elliptical concentric open-center searchcoil
Fisher F70 Is One Hot Detector
Steve from Ohio in cleveland, ohio -

I bought the Fisher F70 about 3 months ago. I have been a detectorist for over 25 years and have used many detectors over the years. The F-70 is the lightest detector I have ever owned at 2 lbs. 15 oz. The F-70 uses 4 AA batteries and I have gotten over 60 hours of detecting on rechargeable 2650 MHA batteries - very economical. I have found coins to a depth of 12 inches with the F-70. I have found tin cans at 20 inches. The F-70 is a great coin shooter and also a great Relic hunter. It is also from what I have heard a very good gold nugget hunter. At a frequency of 13 khz, it allows for a multitude of uses. The F-70 is very easy to use and the learning curve is short. The recovery time is awesome and this machine is very fast. You can really cover a lot of ground with the F-70. I would recommend the F-70 and give it 5 stars.
Nov 07, 2008
73 people found Steve from Ohio's review helpful.