Fisher F75 Reviews, Price and Specifications
All-Purpose Land Metal Detector
Retail Price: $1,095.00
Number of Reviews: 1
Avg. Rating (5.0 Stars)

Email to a friend.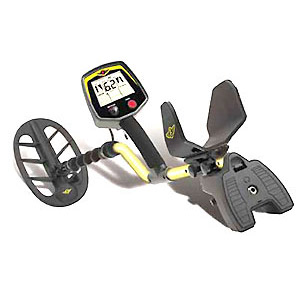 Specifications:
Best ergonomics in the industry
Phenomenal target separation and 'see through'
Large LCD Screen
Target Identification Discrimination modes for searching in trashy areas
Ground Cancellation Trigger-Actuated FASTGRAB
Magnetic Mineralization Bar Graph Read Out
Trigger-actuated target pinpointing with variable audio pitch
Non-volatile memory saves settings
Superior Electrical Interference Rejection
Backlight
More than 30 hrs with 4-AA Batteries
Lucked Out
Steve O in Perkasie PA USA -

Of all the detectors to choose from, & being a beginner at MDing, I lucked out on getting the F-75. It's like a buddy, believe it or not. I have hundreds of items I've found from the surface down to 12 inches on the default mode. If you use the All Metal mode, this machine will detect much deeper. The oldest coin I found so far was a 1841 Russian Kopek, found in the soil under a 70 pound rock in Pennsylvania. I can swing F-75 for 8 hrs because its so light. Some people say its not very durable but I've accidently hit it with my shovel several times, moved sticks & branches with it, banged it, bumped it... the detector still works. Once you get to know what its telling you, and it will take using it, you will be glad you bought it. When it says "pull tab," 98% of the time ...it's a pull tab in the ground. It has just the right amount of usefull bells & whistles to keep it interesting to me. I could go on & on but I won't. Hope I was a help :)
Sep 24, 2008
79 people found Steve O's review helpful.