White's BeachHunter 300 Reviews, Price and Specifications
Underwater/Surf/Beach/Land Metal Detector
Retail Price: $999.95
Number of Reviews: 1
Avg. Rating (4.0 Stars)

Email to a friend.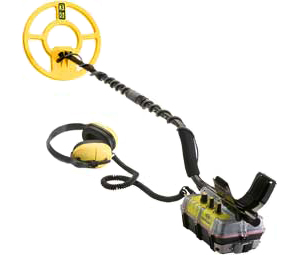 Specifications:
300 mm 12 inch spider search coil with near neutral buoyancy
Dual Frequency provides optimum detection on the sand and in the water
Operating frequencies: 3 and 15 (kHz)
Two Search Modes: Toggle between All-Metal and Motion Discrimination for easy pinpointing and versatility
3 Controls - Threshold, Sensitivity, and Ground. Total metal detector versatility is all here!
Salt and Freshwater metal detector versatility for all kinds of beach hunting
Drop-in "AA" battery system and battery test. 20 hours of hunting
Detachable control box with hip or chest-mount pouch included
Waterproof Piezo headphones included
Waterproof to 25 feet
Weight with batteries 5.7 lbs
Great on the Beach
Matt Randolph in Palm Coast, FL USA -

I bought the Beach Hunter because my Minelab Explorer was not doing so well near the salt water. The Beach Hunter has been a great investment as I have found enough things at the beach to pay for it in just 1 year. Very easy to figure out and use. I also like the fact that I can go under water up to 25 ft. Although most good finds are at waist deep.
May 30, 2012
26 people found Matt Randolph's review helpful.