Bounty Hunter Pioneer 505 Reviews, Price and Specifications
All-Purpose Land Metal Detector
Retail Price: $399.95
Number of Reviews: 1
Avg. Rating (5.0 Stars)

Email to a friend.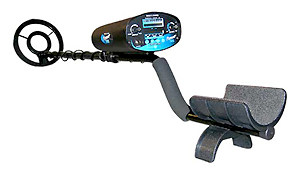 Specifications:
Configuration: Shaft mounted
Deepest Seeking Detection: coins up to 11 inches and large objects up to 5 feet deep
5 Modes of operation
Automatic and Manual Ground Trac
4 Level, Progressive Iron Discrimination
Target Identification
3-Tone Target Identification
Full Discrimination and Notching Capability
Bounty Hunter's Pioneer 505 Exellent detector for the money!
Jim in Smiths Station,Alabama -

I have a grand total of 3 hours metal detecting, and I am hooked! I have wanted one for years, but I never had the extra money for what I thought a good detector should cost. I figured a detector as affordable as the 505 would most likely be a cheap machine for kids. Boy was I wrong! I was watching a guy on Panama City Beach Florida, with his detector last week, and noticed he had one, and was hitting targets all over the beach. "Are those things any good?", I asked. "You can't beat it for the price and dependability", he replied. I went up to our condo, and ordered one online. After it arrived, I took it out to the front yard. I found coins immediately, even though I was still a little confused about all the different controls/features. After more reading, I soon understood what was required of the operator. I went out to the back yard, and found more coins! They were exactly the coin indicated, and at the depth indicated! I also found some junk, but learned how to notch out the trash. I recommend the Pioneer 505 to all newcomers who want all the bells and whistles, but don't have $900.00 laying around. An exellent detector!
May 01, 2009
77 people found Jim 's review helpful.