Jobe Gas Powered Hibanker Reviews, Price and Specifications
Power Sluice / Highbanker
Retail Price: $700.00
Number of Reviews: 0
Be the first to review this item
Email to a friend.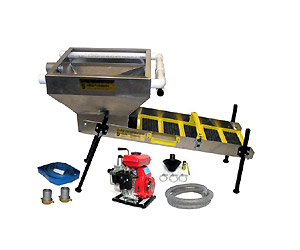 Specifications:
The JOBE Gas Powered Hibanker or Power Sluice is designed around the very popular 48 inch Yellow Jacket stream sluice.
The adjustable 4 leg stand and the Hi-banker Hopper are attached to the sluice.
Unit is powered by a 2 1/2 horse power, 4-cycle, gasoline pump. The pump and engine combination weighs only 27 pounds and is mounted on a shock-resistant base plate with a carry handle.
Highbanker unit can also be set up with a recovery tub to make a complete hibanker recirculating system.
High banker includes 6 feet of 1 1/2 inch intake hose, an intake screen, 25 feet of 1 1/2 inch lay-flat discharge hose, and all necessary fittings.
The sluice box also comes with an aluminum flare which replaces the Power Sluice Header Box so the sluice can also be used as a normal stream sluice when desired.
The unit is also designed to easily convert to a 1 1/2 or 2 inch dredge with the addition of just a few optional parts (gold dredge kit).