Jobe Magnum 12 Volt Power Sluice Reviews, Price and Specifications
Power Sluice / Highbanker
Retail Price: $329.95
Number of Reviews: 0
Be the first to review this item
Email to a friend.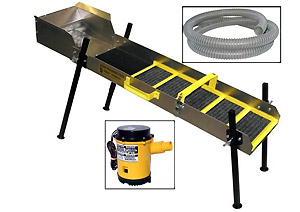 Specifications:
The JOBE Magnum Power Sluice is designed around the JOBE 48 inch Yellow Jacket sluice.
Simply attaching the JOBE 4 leg adjustable sluice stand, the JOBE Power Sluice header box, and the powerful Mayfair 2000 gallon per hour 12 volt pump provides you with a high volume power sluice.
It can also be set up with a recovery tub to work as a complete power sluice recirculating system.
Magnum power sluice also includes 6 feet of 1 1/2 inch discharge hose.