White's Prizm II Reviews, Price and Specifications
All-Purpose Land Metal Detector
Retail Price: $ 249.95
Number of Reviews: 2
Avg. Rating (4.0 Stars)

Email to a friend.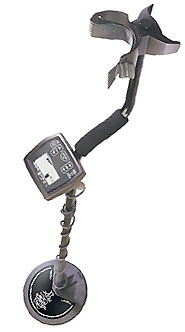 Specifications:
Target I.D.
5-Range Discrimination
Adjustable Sensitivity
PinPoint/All-Metal Mode
8-inch waterproof search coil
Rugged, water resistant control box
Weight: 2.5 pounds, too
Low Battery Alert
Powered by 2 9-volt batteries
Good For the Price
Mark in USA -

I detected with a White's back in the 1970s but gave it up ...I was too busy. Now the kids are gone, and I have time. Knowing that everything is now electronic and digital, I wanted to see how much the detectors have improved. I didn't want to spend a lot. There is a huge jump in good machines and great machines.... about $600 - $1000 difference, so I bought the cheapest White's detector. In 4 months of metal detecting, I found $95.00 in change and a lot of cool stuff. I usually disc. out iron and foil. ID is right on. I don't like the pinpoint feature. It should double beep not hum continually... I just use a pinpointer. The detector always locates just what the icon says it would be, and is simple to use... turn-on and-go, no fiddling with programs. I'll use it till it breaks.
Mar 03, 2009
29 people found Mark's review helpful.
WHITES PRIZM 2
BILL in ALABAMAE -

(NOTE from the Webmaster: Sometimes I get a review like this one and I do not know whether to cry or lough about it. You will be the judge!) DIS IS DE BESTEST DETECCTORE OWET DEARE
Feb 04, 2009
19 people found BILL's review helpful.