Micro-Concentrator Heavy Duty Reviews, Price and Specifications
Micro-Sluice Gold Concentrator
Retail Price: $549.00
Number of Reviews: 0
Be the first to review this item
Email to a friend.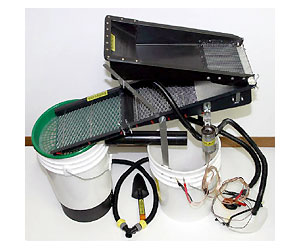 Specifications:
The Micro-Sluice Concentrator model needs No pre-classifying or pre-screening required and is based on the very popular Micro-Sluice 2 design. It uses a "double-deck / high banker" type design and will accept any size material and retain the gold from 4 mesh (1/4") down to very minute 200 mesh.
Highly portable, with a size and weight of 12" x 25" (folded up) and only 14 pounds, the Micro-Concentrator will process up to 300 lbs per hour. The accuracy is typically 95-98% for visible gold and 60-90% for sub-visible (free milling gold), down to around 200 mesh.
The Micro-Moss Extender Sluice, or HFBE Vibrator is recommended for those "difficult" jobs with micron or "flour" gold.
A 1250 GPH high efficiency pump, with two nozzles, circulates water from buckets or pools, using only 3 amps x 12 VDC. This will allow about 10 hours use on a car battery or, for true portability as a high banker, 3.5 hours of use on a light motorcycle battery. Designed for heavy duty use, the Micro-Concentrator will provide years of reliable operation with either the 12VDC pump version or with included hose adapter.
Four aluminum legs provide a sturdy and accurate means of mounting to the HD 5 gallon Pump/base Bucket (provided). Built in angle indicator guarantees you always will have the correct angle of the sluice box and easily repeatable good results.
Any quantity of black sand concentrate will be reduced to only three tablespoons of "super-concentrate" which will pan to clean gold in 5 minutes. The unique triple classification system.
The Micro-Concentrator is ideal for desert use as a wet recycler, on river banks or small pools - the anywhere gold machine that will outperform any gold wheel in terms of accuracy, speed, or value.
Great machine for separating and classifying gem stones.
The Micro-Concentrator has a full one year limited warranty.
Micro-Sluice Concentrator includes: 2 buckets, scoop, float pump kit, Micro-Moss Extender assembly, and a dual hose adapter.