Micro Sluice 2 Reviews, Price and Specifications
Gold Power Sluice / Highbanker
Retail Price: $299.00
Number of Reviews: 0
Be the first to review this item
Email to a friend.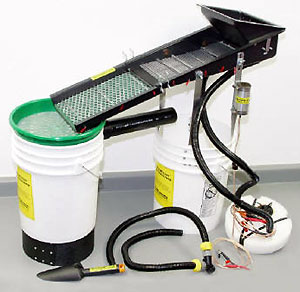 Specifications:
The Micro Sluice # 2 model is an advanced gold concentrator. It's 58% larger (19" x 8") and even faster than original Micro-Sluice 1. It uses a 6 hole feed hopper and a new high efficiency 1250 gps float mounted pump.
Weighing just 12 lbs. and measuring 25" long, the Micro-Sluice 2 processes wet or dry concentrates at a rate up to 1/3 cu. yd. per hour. Recovery is typically 98% of visible gold plus 60-90% of free gold down to 200- mesh (tailings can be run a second time to test accuracy).
The included high efficiency 1250 gal./hr pump uses only 3 amps x 12 VDC. This will allow 10 to 20 hours operation on a car battery. Designed for heavy duty use, the Micro-Sluice 2 will provide years of reliability with either the 12 VDC pump version or with the provided hose adapter. The four aluminum mounting legs provide a sturdy and accurate means of mounting to the heavy duty 5 gallon Pump/base bucket. The built-in angle indicator guarantees the correct angle of sluice and repeatable results.
The innovative and unique 4-stage water recycling system uses a float mounted pump to provide a consistent flow of water to the hopper and sluice. The included screen collects all but the finest of tailings in a separate tailings bucket before recycling water back to the pump bucket. This allows extended use on 8-10 gallons of water.
During operation, the 2-qt. feed hopper is fed pre-classified concentrates by the cup. Six water jets in the hopper mix with the concentrates to form an ore slurry. The slurry flows into the sluice section through metered openings which drop mixture onto 2,000 holes in the classifier plate and into quiet water before entering the riffle section. Operated at the correct angle, up to 98% of the visible gold will be captured.
Black sand with sub-visible or "flour" gold may be collected with the optional Micro-Moss Extender sluice which will produce about 1 cup of "super concentrates" which may require amalgamation. In addition, the HFBE (Highly Fluidized Bed Entrapment) vibrator is recommended for those difficult jobs.
The Micro-Sluice 2 is ideal for use in water limited areas using wet recycling. Up to 1/4 cu. yd. of material can be run with 10 gallons of water varying soil type. The Float mounted pump and separate tailings bucket make recycling water practical! All Micro-Sluice Gold Products are consistent as reliability is our hallmark. The Micro-Sluice 2 will outperform any gold wheel in terms of accuracy, speed, or value.
Micro-Sluice 2 will reduce any amount 1/3 cu. yd. of concentrates into 3 tablespoons of "super-concentrate", which will reduce final clean-up to about 5 minutes with a small gold pan.
Micro-Sluice 2 has a full one year limited warranty.
Includes two buckets, scoop, pump kit, screen, dual hose adapter, and comes with both the Micro-Moss Extender and the HFBE Vibrator.