Micro Sluice 1 Reviews, Price and Specifications
Gold Power Sluice / Highbanker
Retail Price: $239.00
Number of Reviews: 0
Be the first to review this item
Email to a friend.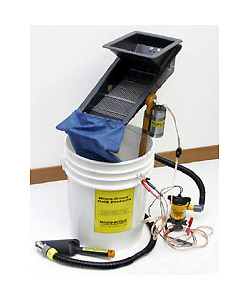 Specifications:
The Micro Sluice #1 model weighs only 8 lbs and measures approx 17" long, includes the HFBE (Highly Fluidized Bed Entrapment) Vibrating Device option.
Concentrates 30 to 75 lbs per hour (2-5 gallons) of any preclassified 1/8" mesh or smaller material and retains up to 98% of all visible gold. It is easy to backpack - 8 lbs, and 17" long.
Micro-Sluice 1 processes dry or wet concentrates at the rate of 2-5 gallons per hour and retains 98% of all visible gold. A high efficiency 500 GPH pump, using only 1.5 amps x 12 VDC, allows 20-30 hours of operation on a car battery. 100% portable, with 2-5 hours run time on a motorcycle battery.
The Micro-Sluice 1 is ideal for dry or desert use as a wet recycle unit. Mounting to any tub or 5 gal. bucket up to 1/4 cu. yd. of material can be processed with only 5-10 gallons of water via use of the exclusive "Tailings Filter Bag." Note that the recycled water can remain clear. An integral 1 quart feed hopper features a unique wash down system that automatically regulates the rate of the material being classified. The built-in angle indicator guarantees correct angle of the sluice. The "Tailings Filter Bag" guarantees no lost gold, as tailings can be run again to check for proper operation.
The Micro-Sluice 1 will reduce up to 5 gallons of material into only 1-2 tablespoons of "super concentrates" that reduces the final pan clean-up to about 5 minutes.
Increased flake and micro-gold recovery are now available with the addition of the HFBE vibration device which eliminates the bottom layer of black sand from "packing down". The HFBE Vibrating unit allows water to mix with the black sand particles allowing gold to sink down via "Fluidized Bed Entrapment".
Micro-Sluice 1 has a full one year limited warranty.
Includes: bucket scoop, filter bag, hose adaptor, pump kit and HFBE vibrating unit.