Gold Buddy V1250 High Banker Reviews, Price and Specifications
Gold Prospecting Highbanker
Retail Price: $399.95
Number of Reviews: 2
Avg. Rating (4.0 Stars)

Email to a friend.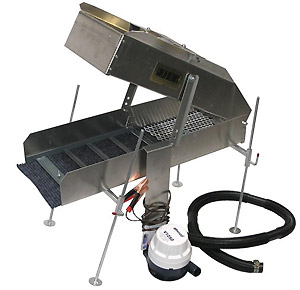 Specifications:
This is a much higher volume hibanker than the original Gold Buddy. Like the original gold buddy this is a self contained recycling unit with many uses - GOLD PROSPECTING, SAMPLING, CONCENTRATE CLEANUP.
It is designed with a two stage classifier sluice. The upper stage, which contains the classifier screen, is 21 inches long and 9 inches wide. The lower level sluice is 24 inches long, 9 inches wide and 3 3/4 inches tall.
The Goldbuddy V1250 is attached to a sluice stand which has four adjustable legs to conform to any terrain. The unit can be set up to recirculate its own water or in a lake or stream as a traditional power sluice. It is powered by a 12 volt 1250 gph electric pump which draws only 2.6 amps. The total weight of the V1250 Hibanker is only about 14 pounds.
It will run off your vehicle battery or any 12 volt battery.
Watched a few YouTube video clips on it.
Ralph Sabean in Annapolis Royal, Nova Scotia -

I like its portability better than the longer sluices. I'm looking to try out some different outfits this summer season. I ordered a small sluice and I want to try this out and see if I can get a small water-pump for it. I may have to lengthen the input so I can do it near my home away from the river. That way it will wash the soil a lot more before going through the sluice.
Jan 19, 2016

Gold Buddy 1250
Bill Hagan in Myrtle Creek, Or. USA -

I have been using my Gold Buddy 1250 for a little more than a year now. It is light weight, easy to set up, and it does a good job of recovering fine gold, minus 30 mesh. Even though it realistically takes about 30 minutes to run a 5 gallon bucket of 1/2 inch classified gravel, it is still faster than a stream sluice. There are only two things that I didn't like about the Gold Buddy. The legs are too flimsy, but with a little care, they are adequate. Second, the classifier screen allows 1/2 inch rocks through which are collected at the upper end of the sluice. It requires frequent attention. I replaced the screen with a 3/8th screen and it runs well with no additional attention needed.
Sep 27, 2009