Le Trap Gold Pan Reviews, Price and Specifications
Retail Price: $13.95
Number of Reviews: 3
Avg. Rating (5.0 Stars)

Email to a friend.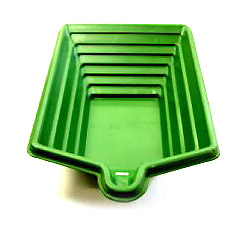 Specifications:
The amazing Le Trap square gold pan makes short work of otherwise tedious panning.
If you have never used a square gold pan it may take a little practice to get really good with it, but once you learn to use this innovaive gold pan you will never want to use anything else.
The Le Trap square goldpan will pan large quantities of material quickly right down to pure gold.
During the final panning process of separating the gold from the black sand - the black sand washes out backwards and leaves clean sparkling gold behind.
Made of dark green plastic it is 18" long, 12" wide and 4" deep.
Weighs about 16 ounces.
Great For Beginers Too
Dee Cooper in Cashmere, Washington, USA -

I have Gold pan on and off, mostly off, since I was a kid and have always used the standard round pan. One of the local gold panners was trying to show me the ropes with a newer style round pan I bough. He had a Le Trap and was working five pans to one of mine. I found his so much easier to use that I went and got one the next day. Happy to say that I have been going panning a lot more and with much better results. The gold seams to stick to the bottom. I even get the little stuff and in a lot less time.
Sep 03, 2011

Awesome Le Trap Square Gold Pan
Clyde Warman in bullhead city az/ -

I have been prospecting for over 25 years and, in that time, I have owned all kinds of gold pans.
The innovative design of the le trap is awesome!
I can pan down to the superconcentrates in less than 30 seconds and have recovered fine gold barely visible to the naked eye. I highly recommend the le trap. If you want the best in gold pans, get the le trap.

Aug 24, 2011

How To Use the Square La Trap Gold Pan
Bill Hagan in Myrtle Creek, Or. USA -

I have been prospecting for some 35 years and, in that time, I have used/owned about every pan in existence. Most of these pans are different versions of the round pan with little doodads added to supposedly enhance fine gold recovery. Some pans worked for me and some didn't. The La Trap is something totally different. When I purchased my Square Pan years ago, it did not come with an instruction sheet. While it doesn't take long to master the pan, an instruction sheet would have been nice to get you started in the right direction. Let's learn to use your new pan. Fill the pan with material to about 2/3 to 3/4 full to start. No need to pre-classify. Submerge the pan under water for a few seconds and then, keeping the pan level, with the riffle end away from you and the rounded dimple toward you, begin the shake the pan back and forth vigorously, not side to side. Within a few seconds, the larger cobbles will come to the top, and you can sweep them out with your hand. Repeat this a few more times until the big stuff is out. Now, with slightly less vigor, shake the pan back and forth to liquefy you material. Once the material is liquefied, and while still shaking, begin to lower the sluice end of your pan. You will see a small amount of material washing out the end of the pan. Shake about 5 or 6 times. Continue shaking and level out your pan to allow the gold and heavies to drop further down through the material. Give it 5 or 6 shakes and lower the front end for 5 or 6 shakes to wash out the waste material. Continue to repeat this process, using slightly less vigor each time, until you are down to your super concentrates. The La Trap has a tendency to compact material at the lowest riffle. Use your finger to sweep the compacted material out of the riffle. Now, using a gentle side-to-side motion, restratify the super concentrates behind this riffle. Now we are going to back wash your material. With a little water in your pan begin a rocking motion, from front to back, and the black sand will slowly move toward the back of the pan, exposing your gold. Once you have this technique down, you will be able to pan material in half the time you could with a round pan. When I go out for a day of panning, my La Trap always goes with me!
Oct 12, 2009