Lesche Original Digging Cutting Tool Reviews, Price and Specifications
Treasure Hunting Recovery Tool
Retail Price: $41.95
Number of Reviews: 2
Avg. Rating (5.0 Stars)

Email to a friend.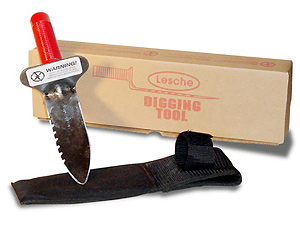 Specifications:
This Heavy duty digger will break through the hardest ground, cut through the toughest roots.
Blade size: 2"x 7" -11.5" overall.
Includes a handy cordura belt holder with plastic insert for carrying.
High Quality Digging Tool
Lorrie in Tucson, AZ -

I like this digging tool as it cuts through the dirt and is easy for a woman to handle. It is very durable and very well made.
Aug 18, 2009

High quality: this will not break in... Invincible?
Chad Entringer in Green Bay, WI (USA) -

I like to call this the "butter cutter." Great for parks or all around. I was also using it as a probe before I picked up a dedicated one. High quality construction. One-piece shovel is welded at joints. I woudln't want anything else on the side of my belt. :) I beleive this is 100% made in the USA ALSO!
Mar 24, 2009