Gold Buddy 12V Recirculating Mini Highbanker Reviews, Price and Specifications
Gold Prospecting Highbanker
Retail Price: $329.00
Number of Reviews: 0
Be the first to review this item
Email to a friend.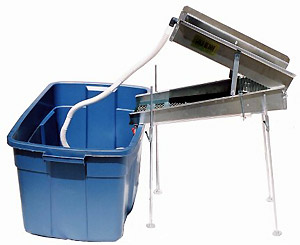 Gold Buddy Mini Recirculating Sluice
Unique and compact
Powered by heavy duty 12 volt 750 gph electric pump
10 gallons of water required to fill the unit
Sluice box is 24" long, 7 1/2" wide
Hopper/classifier is 19" long, 7 1/2" wide
20"W x 32"L x 16"D
Weighs 22 pounds
Collects nuggets to dust, fast and easy. No need to classify, the hopper has a 1/2" screen to seperate it for you. Place the unit next to you PAY STREAK and shovel right into it.
Easy to set up, ready to use - just add water (and battery).
Quick, lift-out tailing box. The aluminum highbanker has 3 height adjustments. The sluice has riffles, expanded metal and ribbed carpet for very effective gold ecovery.
This mini-highbanker folds into a 30 gallon case/resevoir, with room left over for other equipment, and/ or food. A complete gold-getting system in a box, great for prospecting, sampling.