Gold Buddy Small Drywasher Reviews, Price and Specifications
Gold Prospecting Device
Retail Price: $349.00
Number of Reviews: 0
Be the first to review this item
Email to a friend.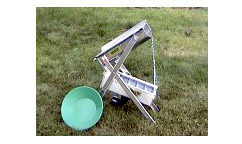 Specifications:
Powered by a 2cycle leaf blower or attached to your dirt vacuum (not included)
Stands 31" high x 12" W x 18" L
Approx. capacity: 3/4 ton per hour
Approx.Weight: 11lbs
The vibra-lite series - small in size but big in performance. The legs are easy to remove for backpacking or storage. It uses a standard 2 1/2" vacuum hose, making it a great companion with a dirt vacuum.
The hopper has an adjustable flow regulator. The riffle box has an angle adjustment and a vibrator for efficient gold-getting ability. Simply undo the wingnuts on the legs, put them in the hopper, strap it onto your backpack and go for the gold.