Backpack Power Sluice/Gold Dredge Highbanker Reviews, Price and Specifications
Gold Prospecting Motor-Powered Combo Unit
Retail Price: $925.00
Number of Reviews: 0
Be the first to review this item
Email to a friend.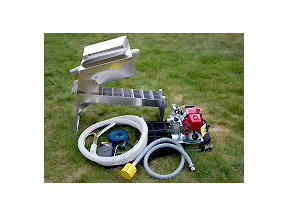 Specifications:
Powered with a four cycle 1.5 Honda
Sluice size: 6.5" x 32"
Hopper: 10"x 17"
20' of pressure line and intake with screen
Power Sluice Frame legs
Light weight pack frame
Weight: 50lbs
One of the most efficient back pack units on the market, not to be outdone by it's larger counter parts, can classify and retain values in hopper instead of relying solely on the sluice for recovery. The recovery rate of this type of unit has been proven very effective.