White's Prizm IV Reviews, Price and Specifications
All-Purpose Land Metal Detector
Retail Price: $ 399.95
Number of Reviews: 3
Avg. Rating (5.0 Stars)

Email to a friend.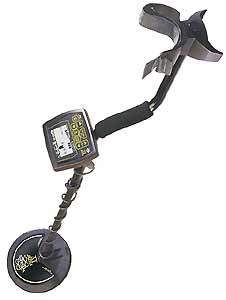 Specifications:
Smart Notch
Tone I.D.: (3 distinctly different audio tones)
Depth Reading
5-Range Discrimination
Adjustable Sensitivity
PinPoint/All-Metal Mode
8-inch waterproof search coil
Rugged, water resistant control box
Weight: 2.5 pounds
Low Battery Alert
Powered by 2 9-volt batteries
EASY TO USE
Chris in cape girardeau, mo usa -

I recieved my White's Prizm IV today. I have never used a metal detector before. Went to the park and had no problems learning how to pinpoint the target. I found coins and a fake gold ring, was so excited, it did not matter. I had a little trouble with trash, but hopefully it was just the user's error!
Jun 16, 2009
13 people found Chris's review helpful.
Extremely Accurater and Easy
John in Phila. suburbs, PA -

I did a little detecting in the 1970s and just got back into the hobby. I was amazed at how technology has advanced the new metal detectors. I settled on the White's Prizm IV because I let others on the Internet "scare" me into not buying a higher end model (learning curve). Don't get me wrong, the Prizm IV is a great machine. I was able to use it and understand its controls in 10 minutes. I have been finding a lot of coins, even an 1899 cent. Its pinpointing abilities are dead on as is its depth indication. If the machine says, "it's at a certain spot at 2" down," you can bet that's where it is. I just feel that I have already out-grown this machine. This is a great machine for beginners and for people that are doing it for a relaxed "hobby." But if you are a fast learner, and are more serious about metal detecting, then buy a more advanced detector that you can grow into..
Jun 30, 2008
18 people found John's review helpful.
Prizm 4 - Can't Beat It!
Nathaniel in New Jersey, USA -

Just got back into the hobby and researched different detectors for quality, features, ease of use, and price. I ended up with the White's Prizm 4 and I'm not sorry. Pinpoint is right on. Depth is right on, and the display and discrimination work great. I've dug silver dimes at 8 inches deep. You can just turn it on and go. This detector keeps up with the higher price machines by far.
Apr 21, 2008
31 people found Nathaniel's review helpful.