Mini Sluice Reviews, Price and Specifications
Gold Washing Tool
Retail Price: $99.95
Number of Reviews: 2
Avg. Rating (4.5 Stars)

Email to a friend.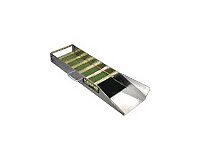 Specifications:
The most popular medium sized sluice is perfect for all around use.
Size: 36" x 10".
Weight: 5 lbs.
Keene Mini
Jim in Newport news, Va -

I too own the mini sluice. It does an excellent job. It holds gold,even the fine gold. It is built well and carries well, but it does need very good water flow.
Nov 13, 2008

Fine Instrument!
Ben in Virginia, USA -

This sluice has met my needs well! Sluicing in various creeks of viginia, it holds on to even the smallest flakes and fines. The wieght is good and the clean ups are quick.
Although, it does need good water flow to keep itself clean. In the summer it can be tough to have that flow in some medium and small creeks.
Apr 14, 2008