Keene Hand Sluice Reviews, Price and Specifications
Gold Prospecting Tool
Retail Price: $114.95
Number of Reviews: 1
Avg. Rating (5.0 Stars)

Email to a friend.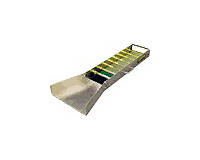 Specifications:
Size: 10" x 51" with an 18" wide flare
Weight: 11 lbs
Designed with a wide flare for faster separation and made longer for greater capacity, this high production sluice has been the industry standard for decades.
Removable flare allows for easy packing and storage.
Works Great
G. Vaughn in Nevada City, Calif. USA -

I bought this one back in the 1970s before they added a handle to it, and it was a lot cheaper! I used it to find my discovery before filing my claim, that the government later took away from me. It looks like I will have to get it out to use again now that the environmentalists have forced a ban to dredging here in CA.
Jun 17, 2012