Reviews, Price and Specifications
Gold Prospecting Tool
Retail Price: $49.95
Number of Reviews: 0
Be the first to review this item
Email to a friend.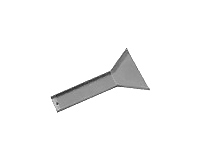 Features:
This is the world's smallest and easy to use sluice.
The Gold Miser allows you to clean up your black sands from panning, sluicing, or dredging in a small fraction of the time required by other equipment.
The special grooves in the sluice even let you hold onto fine gold while letting black sand wash away.