D.A.M. Gold Concentrating Blue Bowl Reviews, Price and Specifications
Gold Pan
Retail Price: $64.95
Number of Reviews: 4
Avg. Rating (4.2 Stars)

Email to a friend.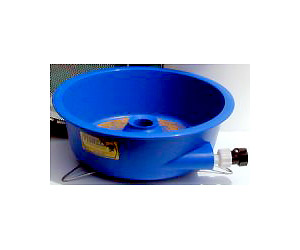 Specifications:
Leg levelers (optional set of 3 available below)
12V pump (pre-plumbed)
3-5-gallon plastic pail
18-gallon plastic tub
Wetting agent (Jet Dry, etc.)
Enough treated water to fill the Bowl, pail, and tub to proper levels
12V battery, or other suitable 12V DC power source (a 12V, 6-amp battery charger will work in a pinch)
Size: 15.5" x 5.5"
Weighs 3lbs
Get all the gold quickly and easily from the water flow of a garden hose or or it can be rigged to recirculate with just a 12 volt pump (optional) and a 5 gallon bucket.
Panning fine gold and black sand concentrates by hand is very difficult and can be incredibly tedious. The Blue Bowl can recover Gold as fine as talcum powder when setup and run properly.
This is the famous plastic blue bowl gravity concentrator designed to work forever with no moving parts. Comes with water flow control valve.
You can raise or lower the bowl by turning the large disc clockwise or counterclockwise while attached to the bucket. The flange will hold the leveler in place as the disc is moved in either direction.
It is strongly recommended to wet the concentrates prior to adding them to the Bowl.
Before cleaning out the BlueBowl, shut off the water supply and allow the water to settle down. The Gold can then be removed with a sniffer bottle.
No parts to wear out or replace. Made of high impact plastic. Needs only 2 gallons of water per minute. Take it with you to the field as it is a small and portable size.
quick and without Mercury
C. Gerding in Paramaribo,Suriname -

Love this idea! Hopefully it's the answer to the Mercury problem. Thanks for the solution!
Nov 28, 2011

Very slow
Rick in Pacific Northwest -

Minie sluices do a much better job of capturing small gold, and you can build your own mini sluice for about $3.50. Very cheap and effective, just buy a small bildge pump, and you are set. You can run much more material. Blue bowls are good for sampling a small amount of concentrate. I have been prospecting for about 35 years now and after I have experimented with different equipmentand, I found the best combination. The blue bowl is not it!!!! I have owned and used it for about two years and am not impressed...
Nov 28, 2009

Wonderous Blue Bоwl
Bill Hagan in Myrtle Creek, Or. USA -

I have been running a high banker for better than a year now and, in that time, I have processed upwards 30 yards of material. Obviously this produced a considerable amount of concentrates which I maliciously panned through(I hated black sand). Thеn 5 months ago, an old prospector talked me into buying a Blue Bowl, and I am glad he did. Now I classify my concentrates through a 30 mesh and run it through the Bowl. Yeehaa!!! No more black sand to deal with. While the optional leg levelers are not mandatory, they are money well spent. They steady the Bowl and make it easy to level. Oregon has literally tons upon tons of beach gold. (Now before you sell your house, pack up the wife and kids and head out please read on). The problem is that the beach gold is ultra, ultra fine. I know a couple of gentlemen that take the trip to the beach once or twice a month and they do well. They begin by shoveling sand through finer and finer screens and finally through 100 mesh. These final concentrates are then run through a Blue Bowl. They swear by their Bowls.
Sep 28, 2009

Blue Bowl
Zainal in SINGAPORE -

Facinating material!
Jul 13, 2009