Garrett 14 Reviews, Price and Specifications
Gold Pan
Retail Price: $7.95
Number of Reviews: 0
Be the first to review this item
Email to a friend.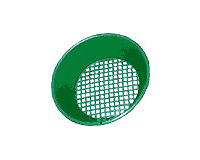 Specifications:
The Garrett 14-inch Combination Sifter/Classifier gold pan is designed for use in sifting gold, coins, jewelry and relics in either wet or dry debris.
It fits into a 5-gallon bucket and its 7/16-inch exit hold restricts the passage of a U.S. dime while letting smaller items pass through.
The Gold Guzzler bottle sucks find gold granules from the water at the bottom of the pan.