Keene 3-Stage Gold Pans Reviews, Price and Specifications
Retail Price: depends on pan size, from $6.95 to $9.95
Number of Reviews: 0
Be the first to review this item
Email to a friend.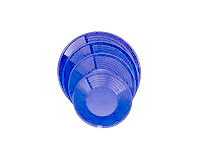 Specifications:
Pans sizes: 10",12",14" and 16".
Each Pan includes deep ribs for quick panning and specially designed exclusive small panning ribs for a very fast final panning of the smallest gold nuggets and flakes.
Even the Blue color is used so the gold clearly stands out in the pan inself.
The rugged pans include a sticker on the bottom showing basic gold panning techniques.