Gold Miner Reviews, Price and Specifications
Automatic Gold Panner
Retail Price: $279.00
Number of Reviews: 0
Be the first to review this item
Email to a friend.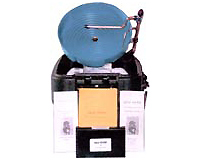 Features:
Weighs less than 10 pounds
500 gph recirculation pump
Processes average 60 pounds concentrate per hour 7 spiral wheel
12 revolutions per minute for the highest gold recover rate
13" wheel with concentrate agitators
Powered by 12 volt DC Battery (not included)
5 YEAR WARRANTY
The Gold Miner is equipped with the most advanced spiral wheel on the market. The innovative, computer designed, concentrate agitators means an increase in gold recovery by 30+ percent.