The Desert Fox Reviews, Price and Specifications
Automatic Gold Panner
Retail Price: $299.00
Number of Reviews: 3
Avg. Rating (2.7 Stars)

Email to a friend.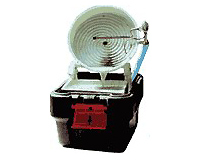 Specifications:
Tailings Tray catches 5 pounds of tailings to minimize time lost in case of an operator's mistake.
Action Packer carrying case doubles as a water reservoir.
Bilge pump re-circulates 3 gallons of water so that the machine can be used in dry areas.
Can be removed from the Action Packer and used directly in a stream.
Dry Weight = 10 pounds
Stowed Size = 12" X 12" X 20"
Variable Speed Control
Powered by 12-Volt battery
5-Year Warranty
How To Instructions:
Fill the tank with 3 gallons of water. Hook the clips to your 12-volt battery. Turn on the switch. The wheel starts to rotate and water sprays from the spray bar. Add a scoop of sand every 20 seconds.
The gold settles to the bottom and the seven spiral leads pick it up and elevate it to the center hub where it passes through the hallow shaft into a gold catch cup. It is simple and user-friendly.
The Aqua Jet spray tube keeps the sand in the wheel in suspension so that the gold drops out faster.
Desert Fox
Richard in Tucson, Az -

The unit is made of cheap plastic. The motor housing breaks easy. It's made of non UV plastic.
When I asked to get the replacment parts, they wanted to sell me another motor for $70.00 plus shipping. Do not buy one!!!
Sep 03, 2012

ALL GOLD FLOWED OUT
Clark von Riesen in Melbourne,FL.,U.S.A. -

I just set one up, tried fast to slow speed, and also tried all water adjustments and angles +45 degrees and minus.
I got wheel to operate better and better but best results were 10 % gold recovery with 30% trash. The 90% of gold went in recovery tray which retained about 95% using Jet Dry. My flakes were 22K plus flat and moved with water movement.
May 29, 2012

Desert Fox
JC in new mexico -

It is probably the best recovery device ever made!
May 05, 2009