Treasure Master TM 808 Reviews, Price and Specifications
2-Box Metal Detector
Retail Price: $649.95
Number of Reviews: 3
Avg. Rating (4.7 Stars)

Email to a friend.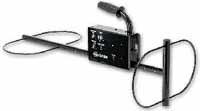 Specifications:
Complete Versatility
Easy Tuning and Setup
Ideal for locating coin caches, treasure chests, and hordes of gold or silver in either coin or bullion form
Designed to find septic tanks, tools, equipment, and metal pipes
Push-button retuning
Drop-in battery pack C-cell pack (Optional Nicad pack available)
Adjustable ground balance
Easy to read meter
Cavern/Metal Box Detecting
Timothy in Nevada -

When I was an Environmental Director for an Indian Tribe in Oklahoma, I purchased one of these for a project. The US Government moved the tribal cemetery to make way for a flood control lake. Seems they didn't do a good job as there were coffins popping up in the lake and others eroding on the shore. This White's TM-808 was one of several technologies used for non-invasive ways to detect where the metal coffins were left behind. It was up to individual families to leave them there or move them like they were told they had already been in the 1970s. This machine worked extremely well locating those metal coffins deep beneath the ground after all those years.
Mar 12, 2014
12 people found Timothy's review helpful.
Help!
Lizander in fl -

It is a good hellper...
Aug 06, 2013
3 people found Lizander's review helpful.
White's TM 808
Esteban James in st petersburg florida -

I have own a 808 for 10 years. It will hear a beer can down 5 feet. The TM 808 is hard to use on hard terain because it must be held steady to ground, or sound changes when lifted or dropped. The TM 808 works good in mineralization in California. No swinging just walking. No treasure yet but alot of car parts such as a Model T's axle down 4 feet. This machine has been reliable. But it is not for single coins though, you won't hear a quarter. I'm still dreaming of that treasure. My TM 808 had antenna connection problem. White's fixed it with thumb screws to snug it up at no charge. Everything works good now.
Aug 03, 2013
11 people found Esteban James's review helpful.