Compact All-Aluminum Hand Scoop Reviews, Price and Specifications
Beach Detecting Sand Scoop
Retail Price: $29.95
Number of Reviews: 2
Avg. Rating (5.0 Stars)

Email to a friend.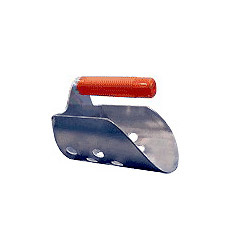 Specifications:
All welded Aluminum
5/8 inch holes for fast purging of water and sand
Size: 5" wide x 3" deep x 6" long
Includes a rubber orange handle grip
Open top design
Weight is .75 of a pound
Super Scoop
Jim B in southern new jersey -

It is a super scooper, and also works as a cat litter box cleaner in winter.
Sep 12, 2009

Polish scoop
Coinshooter in San Diego, Ca -

Kinda looks like the polish gun.
Aug 26, 2009