Light Weight Aluminum Treasure Beach Scoop Reviews, Price and Specifications
Beach Detecting Sand Scoop
Retail Price: $139.95
Number of Reviews: 0
Be the first to review this item
Email to a friend.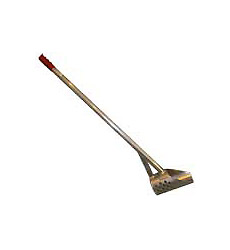 Specifications:
Here is a new style aluminum water scoop. It is a light duty, shallow water beach scoop.
The aluminum bucket has 5/8" diameter holes punched into the sides and back of the scoop.
The bucket of the sand scoop is 5" in diameter by 9" long.
The aluminum 1-1/4" diameter handle is welded to the top of at a 20 degree so you can use your foot on the back of this scoop to push it into the sand.
There is a top reinforced aluminum bar to give this scoop some durability.
The handle is 40" long with an over length of 47" long.
The handle has an orange rubber hand grip for comfort.