Travel Beachmaster 45 w/ 2 Pc Shaft Reviews, Price and Specifications
Beach Detecting Sand Scoop
Retail Price: $139.95
Number of Reviews: 1
Avg. Rating (3.0 Stars)

Email to a friend.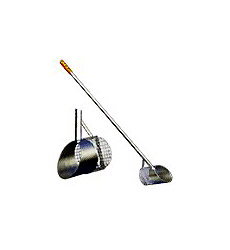 Specifications:
Overall length: 45"
Comes apart in two 22.5" pieces for easy assembly and travel
Capacity 3 qts
Weighs only 3.56 lbs
Shafts are joined by a unique heavy barrel bolt that hand screws into matching second shaft increasing shaft strength by 50%. Strong enough for the beach hunter and light enough to use for shallow water hunting.
Dry Sand Only
Coinshooter in San Diego, CA -

If this scoop is the short version, it's basically not a water scoop. If you use it for wet sand, the cheaply made area, where the bar attaches to the basket, will eventually break. The welding on these units is not great for the long term endurance in the water, but they are great scoops for the dry sand.
Aug 26, 2009