Beach Brute Pro 2-Part Long Handled Sand Scoop Reviews, Price and Specifications
Beach Detecting Sand Scoop
Retail Price: $219.95
Number of Reviews: 2
Avg. Rating (5.0 Stars)

Email to a friend.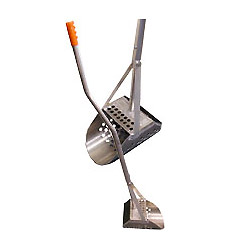 Specifications:
XXX Strength Aircraft quality Aluminum
Overall length: 57"
Overall basket size: 12.0 deep x 8.5 wide x 6.0 inches high
2-part handle design for ease of portability
No-slip foot pad on the back
Weight: 4.9 lbs
The NEW Beach Brute Pro features Synergized handle design for better scoop penetration and easy, no-effort target recovery.
The BRUTE of a SCOOP
Sven in Ontario, Canada -

This unit is Brutis' younger brother. A lightweight fighter that can really get the job done.
I owned the original stainless steel model made by the designer before Kellyco started making them. It was an extra 3 pounds of weight that you dragged around.
Have to say the handle arrangement is superb, easy to pull back on and slide your hand down the handle to wash out the scoop. Because of its flat edge, it's more stable when pushing down on the foot pad than rounded scoops. And the foot pad is at an angle that is a natural position for your foot to be in. The flatter edge has no problem getting into the hardpack and gravel bottoms.
The 2-part handle idea is fantastic, something I thought to do with my Stainless version. Makes for easier transport and fits into a small car better.
I am thinking about getting the Aluminum Kellyco version to replace the original scoop I sold 6 years ago. Just not happy with the price, scoop prices have really gone up over the years...
Jul 20, 2010

Holy Moley. This thing is better than I ever expected
Syeve from Ohio in Sarasota Florida -

I was pondering whether to get this scoop or a smaller stainless steel scoop. It took me at least two hours of thinking about cost vs performance and I finally decided to get the Beach Brute.
This scoop looks very intimidating as it is so large. The handle for me was too long, so I cut it down. It is really nice to be able to remove the handle, and that allows for better transporting in a car. Great design feature.
The scoop itself is very well designed, and the foot pad on the back is a good addition and is very functional. The large 8.5 inch wide scoop cuts very well into the sand even when large shells stop other scoops dead in their tracks. The foot pad and large foot area allow for a lot of force to be applied to the scoop making digging easy.
I took the scoop out for the first time and noticed that my digging time was cut down drastically. It is amazing how much sand and shells this thing can move. In many cases in the past, I had to dig several scoop-loads with smaller scoop to retrieve a target. With this scoop, usually one scoop is all it takes. In the water, this is an advantage as it is kind of hard to miss a target with such a large scoop.
If you can handle this scoop, and it is very big, then you will be able to work the beaches far quicker with less digging. A really efficient and amazing scoop.
Mar 17, 2010