Razor Edge Gator Digger Reviews, Price and Specifications
Treasure Hunting Recovery Tool
Retail Price: $69.95
Number of Reviews: 5
Avg. Rating (3.0 Stars)

Email to a friend.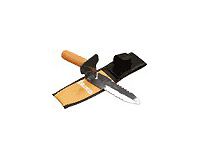 Specifications:
Tears through the hardest and most stubborn soils with ease
Triple tempered steel blade welded through to handle
14 massive razor edge cutting teeth cuts through roots, hard clay, composite soils
Blade: 7.85" X 2" wide
Overall length: 12.6"
Dura-Pro II cordura carrying sheath with belt loop
Lifetime Warranty
It's a digger not a wrecking bar
Alan D. Stanco in Farmington,New Mexico USA -

This digger is my go-to tool. Have only had the handle cover glue come loose just last week after 2 years of use. If you use this tool to flip over a side walk slab it will be damaged, as would the most well-built shovel you can find. All tools can be misused causing damage to the tool. I see a review with 5 stars and a negative opinion. How is this possible? I know,it must be a love/hate relationship! Love to find stuff, hate the digging in the dirt part. Yeah, that's it!
Oct 23, 2014

Low-Grade Nontempered Steel
Igor in Russia -

I bought this digging tool but it doesn't meet specifications:
1) Made from the finest triple tempered steel
2) Handle made from triple tempered steel & welded to blade...
It's a lie. I've tested this digger on a special metal-testing machine and found out that this tool is made of cheap nontempered steel!!!

May 31, 2011

May as Well Use a Straw
Chad in Norfolk, VA USA -

This was a free digger with my 1200 dollar machine. If I'm buying an expensive metal detector, you would think they would send out some decent tools. I spend more time bending this digger back into its "original" shape then I do recovering targets. I think I would have better luck pulling coins out of the ground with a straw.
Nov 02, 2009

Good Relic Hunting Tool
Tony in Virginia -

I use it to pry rocks and roots when digging huts and fire pits at the Civil War sites. I've never had a problem with this good relic hunting tool.
Oct 11, 2009

Definitely NOT as tough as a gator
Johnny Williamson in Austin, TX, USA -

This digger was provided as a "freebie" by Kellyco when I bought my Minelab SE. I expected a digger with its hyped advertising to be a lot tougher, especially when used to pry objects out of the ground. Mine ended up bending in half, and thus worthless, since it rebends quite easily now. And the "lifetime guarantee" is also worthless, once you factor in that you have to pay the shipping to return the damaged product, and receive a replacement. I'm buying a Lesche/Predator digger pronto, which have been reviewed all over the place by hunters, who have nothing but positive things to say about the Lesche/Predator diggers. Gator buyers, beware!
Jul 05, 2008