Sampson Pro-Series Shovel Reviews, Price and Specifications
Treasure Hunting Shovel
Retail Price: $54.00
Number of Reviews: 2
Avg. Rating (5.0 Stars)

Email to a friend.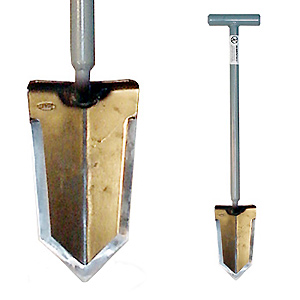 Specifications:
Length: 32"overall
Blade: 8"x 4.5"
Weight: 2.6 lbs
New Sampson Pro-Series Long handled Digging tool is perfect digging the deepest coins and relics. Choose either the T-handle or Ball handle digger.
Made of aircraft-quality steel, are super strong, rust resistant, smooth and perfect balance and weight. Long tapered cutting edges gives long life in hard digging conditions.
Virtually self-sharpening during use.
Proper Tool
Xraybeam2 in Va -

I purchased the ball handle version (personal preference-no regrets so far) with the serrations. I have used it for 6 months now and it works better than I expected. I have cut/chopped through roots, pried through roots and no damage so far. It makes digging so much better. I rarely ever use a hand digger anymore. Cuts clean easy plugs, and I'm very happy.
A bit pricey, but I would buy it again if I lost it.
Jun 25, 2016

Awesome Tool
Brian Myers in Schuylerville, NY USA -

I've got the newer one with the serrated edge. This shovel cuts through the hard clay ground that I often detect in. One of the best accessory investments I have made!
Aug 11, 2010