Lesche 28 Reviews, Price and Specifications
Treasure Hunting Shovel
Retail Price: $58.95
Number of Reviews: 5
Avg. Rating (4.0 Stars)

Email to a friend.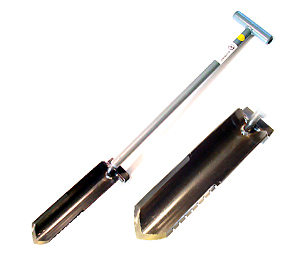 Specifications:
100% aircraft quality all steel construction
3.5" x 12" blade
Length: up to 40" long
Comes in 3 Sizes, 28", 36" and 40"
Blade: 12"x 3"
Weight: 3.2 lbs
Not just limited to relics, this tool is also great for deep caches and for uncovering large finds.
Great Tool but.....
Jason Sevene in Swanzey,NH -

It does have its limitations as far as what you can pry with it, including thick soil. Mine has bent multiple times at the same point as previously mentioned in the other reviews on roots and rocks and such. I also find that the blade is shaped too much like a core sampler and tends to collect dirt and debris constantly requiring me to clear it out in order to dig precise holes. I think that this shovel is a good general purpose tool but I like my model 38 better, which I feel is truly indestructable.
Nov 27, 2009

Awesome Shovel
Tony in Virginia -

This shovel is a very tough and reliable tool for relic hunting. I use it in clay, rock and the roughest ground in VA. By standing on this shovel, I can pry and go through roots.
Oct 11, 2009

Not so good
Ray Reed in Mississippi -

I used this shovel for a good while, and it is good for coin shooting in yards when only digging shallow holes. If you put any real pressure on the handle over a period of time, it will bend. Once this happens, forget it the shovel will be useless soon. Mine did this, and I have had it welded for the second time... Poor design where the handle meets the spade. Sorry, but it's true!
Jul 30, 2009

Great for the Woods or Anywhere!
Chad Entringer in Green Bay, WI (USA) -

I love this thing in the woods because you can just have at it with no worry of gawkers! It's one piece welded at the joints: this is not going to bust. Cuts through dirt like butter! This shovel has an extremely high quality of construction. Not a kid's toy!
Mar 24, 2009

Needs To Be Fortified
Randy Conderman in rochester, ny -

I purchased a 40" ground shark shovel last year and I have mixed reviews. It has a rather long, very intimidating looking blade and it does help get a clean, deep plug in a matter of seconds. I can literally recover an item at 10" within 30 seconds. However the one problem I have is that the shovel in its original state will bend at the blade/handle joint if you apply too much force to it. This hampers how deep you can push the tool into the ground. If you try and take too much at one time the shovel will bend. I remedied that by spending another $60 to have support brackets welded on and a solid bar placed in the core of the hollow tube stock used for the handle. Now I can get just about anywhere without having to compromise my digging techniques. For posturing sake I mentioned the shovel in the January 2009 article in Eastern and Western Treasures magazine under the Title "Three Sisters and a Cousin from 1853" because in general this is a great tool. With its medieval appearance, this shovel also helps keep "would be ne'er do wells" at a safe distance.
Jan 16, 2009