Lesche Relic Hunter Model 38 Reviews, Price and Specifications
Relic Hunting Shovel
Retail Price: $62.95
Number of Reviews: 2
Avg. Rating (5.0 Stars)

Email to a friend.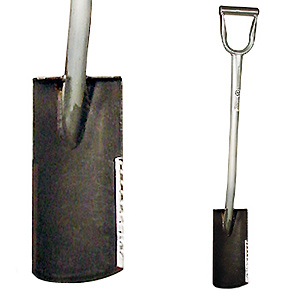 Specifications:
100% aircraft quality all steel construction
Long Handle with Power Grip
Lightweight Handle
This shovel will save your back
Foot step for power digging
40" total length
Blade: 5" x 11"
Warranty: 5 years by Lesche
The Best
Jason Sevene in Swanzey,NH -

This digger is the best out there in my opinion. It is ultra strong and the weight is not an issue. Great for the old sites where the goodies are deep. Does not have the "weak" point that the groundsharks have. My digger of choice for most applications. I love it and so will you!
Nov 27, 2009

Best Shovel You Can Get!
Ray Reed in Mississippi -

This shovel is by far the best on the market. I use it to relic hunt and for coin shooting. It makes quick work even in the toughest of soils, will not bend (you can jump up and down on it if you like) and cuts through one inch roots!
Jul 30, 2009