Koss (UGA) Unity Gain Amplifier Reviews, Price and Specifications
Signal Amplifier
Retail Price: $49.95
Number of Reviews: 0
Be the first to review this item
Email to a friend.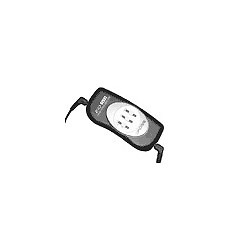 Features:
Operates on two "AAA" batteries
Belt clip for easy out of the way use
Frequency Response: 40 Hz-20kHz
Center Band Frequencies 100 Hz, 1000Hz, 10 kHz
Boost and Cut Levels + 10dB,-10dB
Cross-talk 40 dB
Distortion (THD + N @ 1 kHz)
Max. Power Output 20mW per channel
Cord Length: 48 inches
Takes weak signals and amplifies them so that regardless of what type of phone you have, you will hear those deep targets. You also have full control over the audio output allowing you to control the bass, treble, and mid-range of your headphone.
Three expanded frequency response controls are use to "Max Out" the audio target response of your detectors built-in amplifier. Unity gain amplifier only operates when a target sounds a signal, which limits power output saving battery life.