Cordless Headphone System for XP Detectors Reviews, Price and Specifications
Cordless Headphones for Metal Detecting
Retail Price: £130 ($250)
Number of Reviews: 0
Be the first to review this item
Email to a friend.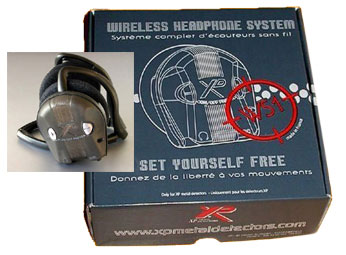 Specifications:
It comes as a kit comprising transmitter that is attached to the circuit board of most XP units.
Powered by the detectors batteries there is no need for a separate supply as the current drain is incredibly small, the additional weight will not be any cause for alarm either as the transmitter weighs only 3 grams.
complete with rechargeable zero memory Lithium battery and backphones supplied
The receiving module weighs 70 grams
charger is included and takes only 2 hours
battery life approx 40 hours
the receiving unit is a separate item to the headphones so that if you want to use your favorite pair you just plug them into the receiver via the 3.5mm socket.