True Blue Sound Wireless Headphones Reviews, Price and Specifications
Wireless Headphones for Metal Detecting
Retail Price: $119.95
Number of Reviews: 0
Be the first to review this item
Email to a friend.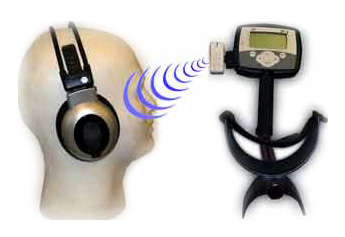 Specifications:
Foldable design for easy storage and traveling convenience
Auto pairing between headset and dongle
Working distance up to 30 ft
Headphones included volume control for easy level adjustment
60 dB S/N ratio
32 - 4 Impedance
40 mm Mylar cone speaker
2 dB R/L balance
4 AAA Batteries
1/8 to 1/4 stereo adapter
3' Ext. Cable
Velcro tape
1 years warranty
The True BlueSound headphones are wireless, employing a small, self-configuring Bluetooth transmitter module fitting into the headphone jack on any metal detector. Recent tests have found that you can be as far as 30 ft. from your metal detector and still hear loud and clear "target" indications.
True BlueSound headphones are incredibly versatile: You can use them on most detectors, so if you have more than one then simply move the Bluetooth transmitter to your other Detector. Relic Hunters will truly love the fact they don't have to worry about getting a headphone wire caught in vines and small branches from trees.
You can mount your new Bluetooth headphone transmitter to a more convenient location on your metal detector by using the supply velcro tape and special 3 foot adapter cord supplied with the headphones.