White's ULA-3/Sierra Madre Reviews, Price and Specifications
Deep Seeking Metal Detector
Retail Price: $599.95
Number of Reviews: 3
Avg. Rating (3.3 Stars)

Email this page to a friend.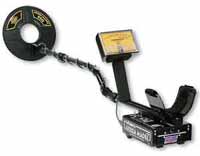 Specifications:
• 9 1/2" search coil
• Light weight only 4 Ibs
• On/Off tuner control
• Low minerization, High minerialization switch
• Auto Ground balancing
• Standard 950 9.5" coil
• Optional 15" search coil detects metal objects up to 5 feet
• Stereo headphone jack
• Easy to read intensity meter
• Trigger pinpoint switch
• Uses 8 AA batteries for up to 40 hours of operation
• 2 Year Warranty
5 stars if you research first.
Rick in Sequim,WA USA -

This is more like a locator detector. With that in mind, you need to go in barren areas to keep away from trash. I dug a horseshoe at a foot just playng around. I also found a wire the size of a hair at about 3 inches. This is like the detector for any and all metal - from manhole covers to coins and nuggets, with the 9.5 coil it came with. A simple detector for those with time to dig...
Aug 14, 2013
10 people found Rick's review helpful.
Mike is a fool who deserves to have his money taken
Jason in South Carolina -

This machine is intended for rockshooting (prospecting for gold in the wild). It's an awesome machine for hunting jewelry and nuggets. (You can take your coins and stuff them Mike!) My Sierra Madre has paid off 10 times over since I bought it a year ago.
Sep 29, 2011
15 people found Jason 's review helpful.
A Really Bad Detector
Mike in Waterford, CT USA -

I could write endless sentences on why this detector is a very bad choice. No need to waste your time or mine. Simply put, this is a very bad detector. Not worth the money. You would do better down on your knees and digging through the dirt by hand looking for coins, etc., than to use this machine. This detector couldn't find a coin or relic if it was lying on the surface under the coil.
Aug 30, 2011
19 people found Mike's review helpful.