Depthmaster Audiophone II Reviews, Price and Specifications
Headphones for Treasure Hunting
Retail Price: $59.95
Number of Reviews: 1
Avg. Rating (3.0 Stars)

Email to a friend.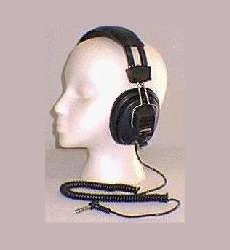 Specifications:
Mylar Speakers
Oval Earpads
Dual Adjustable Volume Controls
Stereo/Mono Selector
12' Coil Cord
Molded Right Angle Plug
Full Sized Earcups
Soft Leathertte Earpads
Cushioned Headband
Heavy Duty Reinforced Connectors
Full One Year Warranty
14 Day Money Back Guarantee
Frequency Response: 20-20,000 Hz
Impedance: 32 Ohms
Weight: 9 Ounces
They Are Ok
Mc Mursu in Vantaa, FINLAND -

I have used these headphones about 7 months with Garrett Ace 250. I paid $29.95 for them. With Ace 250, their quality of sound is pretty nice. The "Soft Leather Earpads" is terrible. After about 2 hours of using the headphones, the pads began hurting my ears. These also look like cheap plastic toys.
Dec 21, 2008