Troy Pro Detector Headphones Reviews, Price and Specifications
Headphones for Treasure Hunting
Retail Price: $114.94
Number of Reviews: 1
Avg. Rating (5.0 Stars)

Email to a friend.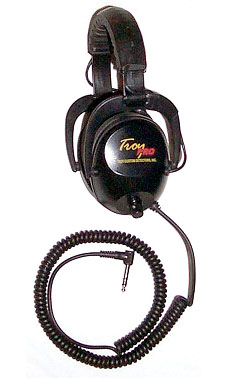 Specifications:
Designed specifically for metal detecting
Very-Rugged, high-quality construction
Lightweight comfortable fit
New! Compatible with all detectors and have NO external stereo and mono switches
Dual detents volume controls for accurate positioning
New! Recessed speaker grills for added room and ear comfort
New! Custom made high performance speakers
Impedance: 100 ohm
Frequency response: 20 Hz - 20,000 Hz (full audio Range)
Strong audio response and sensitivity
New! Extra heavy-duty and extra length 12-foot (uncoiled length) coiled cable with added support features for long life
1/4" 90 degree angle plug
Folds for travel and storage
Lifetime Warranty
Troy Pro headphones are built tough to last. They have true full range high-fidelity audio so you can hear the softer, deeper signals and have better recognition of undesirable signals.
Troy Headphones
D from NW Indy in Indiana -

I used these with not only my Troy X-3, but with 2 Compass detectors, 2 Minelab detectors, and a few others. They have good high and low tones, and can be pretty loaded if you are hard of hearing like I am. You will just have to turn the Threshold down a bit. They had been my favorite headphones untill I moved on to multi-tone machines like the Minelab. I like either Black Widows, or RAT phones with the Minelab brand. The Gray Ghost and Killer B's work good with Minelab but for the hard of hearing, RAT or Black Widow work beter....Otherwise....The Troy Headphones have worked great for me.
Jul 14, 2009