Sun Ray Pro Gold Headphones Reviews, Price and Specifications
Headphones for Treasure Hunting
Retail Price: $109.95
Number of Reviews: 3
Avg. Rating (2.7 Stars)

Email to a friend.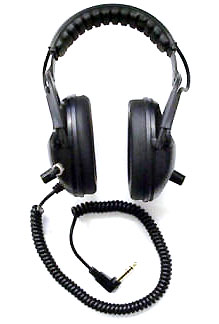 Specifications:
New Soft Leather Muffs - Longer life and more comfort
26 Decibel Ambient Noise Reduction
High output 150 ohm (nominal impedance)
Hearing aid compatible
Aluminum case construction with polymer cones for moisture and sweat protection
Dual 32 position "segmented or detent" volume controls
Limiter circuit on/off switch. (Reduces loud blasts from surface targets, while allowing the faintest of signal responses to be clearly heard.)
Mode selector switch makes the new Sun Ray Pro Gold compatible with most metal detectors
NEW TOGGLE SWITCH BOOTS keep moisture and dirt out of toggle switches
Comfortable, lightweight dual swivel point ear cups
Adjustable ribbed headband
Durable coiled cable w/ NEW EXTERNAL STRAIN RELIEF
1/4" right angle, molded GOLD PLATED PLUG
Limited Lifetime Warranty
Pro Golds
Ken in Houston -

Very good quality and audio. No problems with seller. Only complaint was they were too tight and became uncomfortable to wear.
Oct 27, 2011

Sunray Pro Golds
Wayne Walton in county durham,england, uk -

Great sound ,light, but the cord/cable is rubbish. Mine went 3 times 2 at the headphone end and once at the jack plug end. For the money I payed - £90, I'm not impressed at all. I had to use an extension, but the movement still broke the wires. Another reason I went back to a XP GMP from e-trac. The WS1 are the best out there, sound and wireless.
Jan 05, 2010

Not Happy
Ykw in NH,USA -

After putting them on, I felt like these headphones were of a child's size and way to tight. The cord was too short and tightly coiled to be a pain. The audio tones I got were way too high and fake sounding. I heard no good all around tones, Low, Medium, High....just tin like highs...not happy. I used these headphones once and then sold them immediately.
Jan 18, 2009