Killer B Wasp Headphones Reviews, Price and Specifications
Headphones for Treasure Hunting
Retail Price: $109.95
Number of Reviews: 7
Avg. Rating (3.3 Stars)

Email to a friend.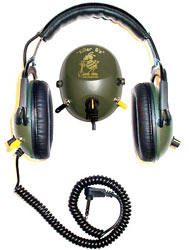 Specifications:
Dual 41 position volume controls
High output 150 ohms speaker elements
Sensitivity at 1 kHz: 73 ± 2 dB
The earphone is hearing-aid compatible
External strain relief
Larger diameter
Soft to the touch control knobs
Locking color coded toggles
Switchable limiter circuit
Lightweight and comfortable cups
Switchable mode switch making it compatible with most detectors
High quality coiled cord with an angled jack
The ''Wasp'' by Killer B's come in your choice of Green or Black and are backed by a limited lifetime warranty.
Aluminum case construction with polymer cones for moisture and sweat protection.
Killer B II Headphones
George in USA -

I have had my Killer B II headphones for one year and eight months. I have used them extensively and have been quite rough on them. I have a habit of removing them on each target so I can hear my pin pointer which adds to the wear on the headphones. I have had to have the cord replaced and that was done at no cost to me. I like the sounds that they produce. They fit nicely and noise reduction is great. I believe that they are well worth the price.
Apr 06, 2014
6 people found George's review helpful.
I Love Mine
Kevin The Mule in SW Ohio, USA -

I have had my Wasp headphones for about two years and they get moderate use. I'm in Ohio, so I don't do much treking in the jungle, so I haven't experienced any issues with breakage or brush snags I've read others take issue with. Also, I called THR right after I got them to get some clarification on the limiter switch usage, and the folks were quite helpful. I give them a solid "A". Oh, and they're comfortable on my melon, thats a plus!
Jul 27, 2011
9 people found Kevin The Mule's review helpful.
They Break!
The Rock in K.C area North Missouri -

What more can I say other than they break very easy.
While walking across a field on my way to hunt, the right side just broke off. No warning of an issue.
I take very good care of my things. My detector still looks brand new after months of hunting, and I did the same for the headset.
But I have had nothing but problems as the wires kept shorting out and I would get a loss of sound.
I bought another set of better headphones and have been using them for 4 months of heavy use and have not had any problems. Even the guys that have Koss do not have the problems as I had with this set of Wasp.
Ask around and see before you put out a chunck of money on this type as I think you will go with something else.
Mar 31, 2011
8 people found The Rock's review helpful.
Don't Buy
Dave in usa -

Don't buy killer B's. I have had a major problem: chronic shorts on both ends of the cables. Оnly after repeated send-ins and a threat of me to post my disgust on all forums, did they do something about it.
Тhey sent me a 2nd pair free. Now the second pair is doing the same thing. I called them, and they basically said that I was S.O.L, and they felt they did their part in kindness.
Now I guess I should fulfill my original threat of posting on all forums about their quality or lack of it I should say.

Feb 05, 2011
11 people found Dave's review helpful.
Poor Warranty
Donald Kamplin in winnemucca,nevada -

I purchased a set of these on 9-15-2009, the left yoke broke after 3 weeks of use. I sent these headphones back for repair and had to include 7.95 for return shipping. 6 months later the yoke broke again. This time, when I called, they informed me the lifetime warranty only covers the electronics. I am stuck with a $100.00 pair of junk headphones. My brother bought the Grey Ghost headphones, and they are doing fine after 12 years.
Aug 31, 2010
11 people found Donald Kamplin's review helpful.
Industrial Type Quality.
Chad Entringer in Green Bay, Wi (USA) -

These stay put with great sound quality. Love the individual volume adjustment for each ear! My right ear is inferior to my left so I am able to tweak it to even stereo sounding noise! Notch volume adjustments! No flimsy felling/construction. The plug cord and rest of the components are of high quality.
Mar 24, 2009
13 people found Chad Entringer's review helpful.
Great Set
Ykw in NH,USA -

Second best set of phones I own. I love the volume on these, with volume control for each side. They are light and comfortable and have a good range of tones. These would be great for someone with hearing problems, either in one ear or both. Killer Bee's and Grey Ghosts are #1 for any detectorist looking to hear the difference.
Jan 18, 2009
21 people found Ykw's review helpful.